hello happy people...
the days are sunny, our
greenmarket
is busy again, and the brooklyn stoop sales abound. its one of those weekends that i'm happy to live in new york city. i love the energy here and the diversity and the tons of creative people doing unexpected things.
nope, that's not my photo above, although i wish it was. its by melanie pullen and its from the wonderful
photo book
and website called
high fashion crime scenes
. i'm a huge fan of fashion photography and anything a little bit dark...so her images are endlessly interesting. her work also reminds me of the photos of
nicola kuperus
, which i also happen to love.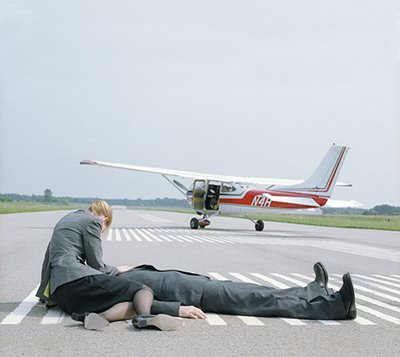 you may know nicola as one half of the detroit band
adult.
i'm a big fan. and i'm excited about their new adult.
playing cards
(get them
here
).
these are just beautiful. i love the way they hug the ear. they're by
tam aura
and you can grab a pair at
stars and infinite darkness
.
maria cornejo has updated her
on-line store
with more things to make me wish that money fell from the sky.
she also finally has the shoes she did for keds available (or you can get them
here
).
...pedro garcia's
shoes
sure are beautiful. thank goodness it doesn't cost anything to just look at them.
also...pretty pretty things at
bark
.
the artwork of
ron mueck
is so marvelously weird.
(via
happy famous artists
)
finding new blogs and magazines to read always make my week. here are a few interesting ones:
+
fashionologie
+
a wee bit skint
+
love made visible
also...sometimes you just want some
interesting, smart, politically aware writing
.
these gorgeous
lace earrings
are perfect for spring.
(available at
l'arti chaut
)
on my way home from work this week, i noticed this bag hanging in the window of a spring street boutique. it was a beautiful cream color. so textured and vintage-looking. i had to know who made it. turns out its a carpet bag from
jerry terrence
. the orange is cute and punchy, but i'm more partial to the black or cream.
(you can also get them
here
)
lovisa burfitt's got it
going on
.
for real
.
i know these are old news, but i really really really want a
breezy singer
.
great, great bags at
kisim
. worth every penny.
and speaking of beautiful leather bags that i can't currently afford...
i adore
jas mb
. adore. seriously. they are stratospherically expensive, but equally goregous. no pictures on the site, but i happened to scare up a few.
bauden foss
has some really great pillows and textiles.
i really love the
tree print
.
i've already found my summer sandals, but these new sandals by
repetto
are tempting me to buy another pair.
if you haven't seen
chie mihara
shoes - get yourself to saks or to your nearest
hip
little
store
.
i'm loving these
flats by calleen cordero
, too.
these affordable and excellent glass rings by
elisa harms
caught my eye a few weeks back...
...and so did these
birch rings
.
natural and beautiful. the best combination.
oh and before i forget...
everyone should be sure to see the show of
kara walker's work
at the
met
. its open until july 30. her cut-paper installations will challenge you, provoke you - her work is so smart and so thought-provoking...she's definitely an artist that inspires me.
until next week, happy trails!